Overview of Oga
Though we can't quite capture the true beauty, history or culture of Oga in words, we will do our best to summarize the peninsula for you below.
We write as Oga and read with "oga". There is not in "ojika".
Oga is Oga - It is not "Uncle" (Ojika/Oshika). The Kanji characters for our peninsular are often unfortunately misread. If you can avoid mixing the two, we would be very happy! The "Ojika Peninsula" is located in Miyagi on the East coast of Japan, but in Japanese kanji characters that peninsular is actually written as reading "Pity Peninsula" - Very different from us! We are unmistakably and proudly called the Oga Peninsula! (This is a well known local joke and we hope you don't mix us up!)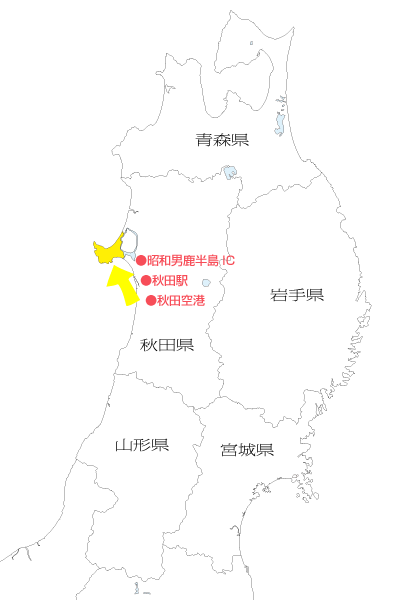 Place sticking out a little of Akita in the middle is Oga Peninsula = Oga-city
If you think of Oga City and Oga Peninsula as being one of the same then we are absolutely okay with this idea.
The population as of December 2018 was approximately 28,000 people. Unfortunately this number has been steadily decreasing over the years. (T_T)
We are located approximately one hour by car from the prefectural capital "Akita City" of Akita Prefecture.
It is approximately one hour by car from the nearest bullet train station "JR Akita Station".
It is approximately 20 minutes by car from nearest expressway exit "Akita Expressway Showa Oga Peninsula I.C.".
It is approximately 1.5 hours by car from nearest airport "Akita Airport".
Related Contents
Oga is Namahage
Preferably, when you think of "Namahage" you equally think of "Oga". Interestingly, people often debate whether "Namahage" should be written using hiragana or katakana; but for the time being we would prefer "Namahage" to be written using the katakana writing system.
The Namahage were designated as "Important Natural Folk Cultural Assets" in 1978. Many people around Japan are familiar with the Namahage without being directly familiar with the Oga Peninsula. Furthermore this unique cultural god-like creature is deeply connected with the image of Akita Prefecture as a whole. (You may have even spotted them in the Akita airport arrival lounge!)
There are many facilities and events around Oga City which embody the name and image of the Namahage. Namahage goods are on sale around the peninsula, Namahage salt and the popular Namahage Rock Festival to name a few examples....
Of course, we wouldn't want people to think we were taking advantage of this famous god-like heritage - we wouldn't do that! We promise! ;)
We would rather say that we simply love and admire this image so much that we would like to use it as much as possible.
In addition, we must mention the "Namahage Taiko" - a drum performance that combines the traditional Japanese Taiko drumming style with our unique Namahage culture. If you come to visit us, make sure you don't leave without catching a performance!
The "Namahage Drum Live" Performances can be regularly seen at the Oga Onsen Hot Spring Village as well as many other local events on the North side of the Peninsula.
Related Contents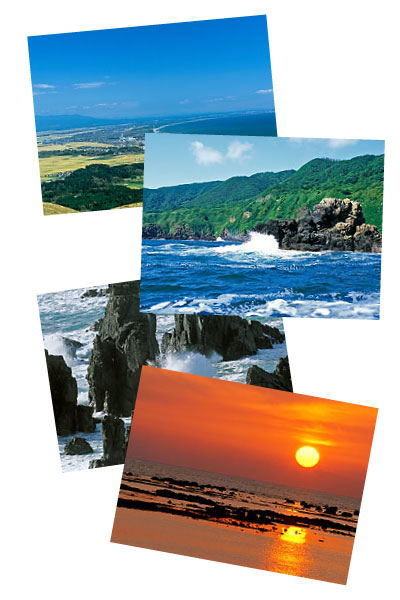 Speaking of Oga, the sea, mountain are natural
The Oga Peninsula is surrounded by the Sea of Japan on all three sides and is full of wonderful nature.
Where we are, we can not just simply describe it as "sea" or "mountain".
It is the continued scenic beauty from the top of the mountains to the crest of the sea which provides the full natural charm of Oga.
The most beautiful scenery of the natural landscape is the coastal line which runs from the South of the peninsula along the West coast up to the Nyudozaki area in the North. You will be taken away while watching the blue sky and the sea, as you enjoy a breathtaking drive here, the evening scenery with the spectacular golden sunshine color is also a wonderful sight.
The range of nature you will see in this beautiful landscape and the sights you can see are not to be missed, so we kindly invite you to come and experience Oga's natural beauty first hand.
Related Contents
Specialty of Oga is "Ishiyaki dish".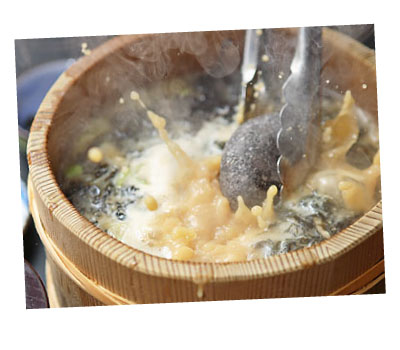 Oga has many famous and delicious foods. The most famous is by far the winter fish "Seasonal Hatahata" - however other seasonal seafood such as sea bream, cod and crab are also not to be missed. Agricultural products such as Oga Pear and Wakami Melon are delicious too. It is not possible for us to produce or catch these foods in volume, so people around Japan probably would not always recognize these names - but the power of each ingredient, that is, the taste and flavour - is nothing short of anything else found in other areas. The food here is certainly beyond delicious. We can recommend that with confidence.
Speaking of Oga's specialty dishes, nothing compares to the fiery fisherman's "Ishiyaki" or, stone grill.
We put a red-hot volcanic glow stone into a hot water broth filled wooden bucket and boil the seafood instantaneously. It is a splendid and exquisite dish. Only in Oga can we enjoy this unique dish that can be enjoyed not only by the tongue, but also by the eyes and the ears as it is carefully prepared by the table.
In addition, you can find traditional "Shottsuru" seasoning produced by the Morii Brewery and special seaweed harvested by the Miyako Fishery, which is stubbornly sticky. As well as "Oga Yakisoba" which has been recently in the spotlight of the B class gourmet scene, making good use of ingredients old and new. Oga's specialty dishes and ingredients have continued to appear one after another.
Related Contents
Work hot water town Oga Onsenkyo that effect is excellent even if not colored
Oga Hot Spring Resort Village is a good representative of the hot spring resorts in Oga.
Currently there are 8 inns and hotels, as well as nationally accredited accommodation and restaurants. Many visitors from inside and outside the prefecture use this town and its wonderful hotels as a base for their Oga and Akita sightseeing trips.
The hot spring water ingredients of the Oga hot spring contain natural salts similar to the sea water, it is colorless compared to other places which often have milky hot water. What makes people enjoy our natural hot spring water is that it has a high moisturizing effect. It is often described as "hot hot water" as it is said to be a very hot natural spring. However this is also said to be a popular quality as the combination of natural salts and high temperatures provide visitors with beautiful glowing and healthy skin.
Related Contents
Even if there was a little charm of Oga, were you able to tell?
I tried to represent Oga's charming points as best as I could above, but I hope you are now feeling excited to come and visit this wonderful place. Can you feel the charm?
There are still plenty of other great points to Oga. If you are interested in coming to Oga please feel free to check out further information on the rest of the Oga Navi web page content. There is also an "Oga Navi Q&A" where we have summarized commonly asked questions which we invite you to look at. Aditionally, if you have any other enquiries then please feel free to contact us using the feedback form which can be found in the site. We hope you can find what you are looking for and look forward to seeing you soon!
In the case of questions over telephone, please feel free to contact the Oga City Tourist Association +81-185244700.
We're waiting for you all to come and visit us in this wonderful place! :)